Gertie is the queen of a massive suburban hive of literally nuclear families. She is a proud soccer mom of 3,000 adorable kids every year. She is also one of Carol's students in the Fitness Dojo.
Physical Appearance
Gertie is a female with light brown skin with a muscular build on the stomach, arms, and legs. She has four arms, instead of two. She appears to have a little pink tank top, exposing her lower abs, and a pink headband, overlapping some of her hair. She also has small pink shoes she wears on her feet, with long light black pants above it. Her hair is brown and split into two tails. Her nose is thin and her neck is long.
Personality
Super-mom. Knows all of her kids schedules and organizes everything perfectly. If you need a party planned, come to her. But she always loses one of her children.[1]
Abilities and Powers
Insect Strength: She can use her multiple arms and insect strength to deliver devastating blows.
Flight: When she arranges her 4 arms just right, she can spin and fly. A literal helicopter parent.
Episode Appearances
Gallery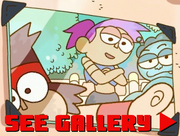 References List