Jurassic World: Dominion Dominates Fandom Wikis - The Loop
Play Sound
"

My losing streak ends here because El-Bow is near!

"
—Punching Judy
"Gar Trains Punching Judy" is the 37th episode of Season 2 of OK K.O.! Let's Be Heroes and the 89th episode overall.
Official Synopsis
With a big fight coming up, Punching Judy turns to KO and Gar to help her prepare.[1]
Plot
Punching Judy lost a push-up contest to K.O. and is desparate to win the Ultimate Beat 'Em Up Championship. K.O. decides to train Punching Judy, however, she believes that she should get a trainer with more experience. She turns to Mr. Gar whom she was inspired by his El-Bow days. She recalls Mr. Gar's achievements and wants him to be her coach. Mr. Gar then decides to be her coach.
Mr. Gar tosses an orange to test Punching Judy's reflexes and thinks she does not need training. Punching Judy desperately wants to improve her punching abilities because she comes from a family with punchers. She tells her story that her older sister, Punching Trudy were rivals and is ahead of her in sports, school, and home. Punching Trudy enrolls in the Ultimate Beat 'Em Up Championship. Punching Judy is determined that she will win with Mr. Gar's help. Mr. Gar is hesitant on how to help Punching Judy since he does not know her well. K.O. convinces him to open up. Mr. Gar's first advice is to start training to build strength. In a series of montage, Mr. Gar trains Punching Judy by making her lift anvils, doing push-ups, and punching logs. Punching Judy is desperate for the pep talk and Mr. Gar tells her to train harder.
At the Ultimate Beat 'Em Up Championship, Punching Judy feels intimidated by the number of fighters participating in the event. K.O. and Mr. Gar encourages her that she has it. Punching Judy defeats her opponents and comes out strong. She loses her guard once her final opponent is her sister, Punching Trudy. Punching Judy runs to Mr. Gar and K.O. that she can not defeat her. The competition pauses until Punching Judy can pull her act. Punching Judy fears of Punching Trudy's sight as a reminder of her losses. Punching Judy requires emotional support from Mr. Gar until Mr. Gar could not handle the pressure. Mr. Gar is emotionally unavailable to aid Punching Judy.
K.O. and Punching Judy trains Mr. Gar emotionally to help open up his feelings by having him talk out his emotions, performing a trust fall, and paint his mind. Punching Trudy joins the action but then she and Punching Judy gets back to the competition. Mr. Gar gives the pep talk to Punching Judy about his struggles when he was El-Bow about his good and bad moments. He claims that his mask was his unbearable weight of his shoulders because he is reminded of his times where he was not at his greatest. Punching Judy's faith in Mr. Gar makes him appreciate his gift and informs her that she has a gift.
Mr. Gar informs that she has an advantage because she has a strong lower body to give her stability to spring back when she is punched. Punching Trudy wakes up after Mr. Gar's speech. Mr. Gar allows Punching Judy to wear his El-Bow mask. Punching Judy and Punching Trudy fight and Judy dodges between Trudy's punches. Punching Trudy is weakened due to poor lower body strength. Punching Judy easily defeats her and wins the championship. K.O. tells Mr. Gar that they should do squats.
Features
Characters
Trivia
On July 20, 2018, the OK K.O.! Krew Tumblr site received a question concerning about if Diving Belle, Dolph Finn, Rex th' Bunny, or Punching Judy will have an episode of their own. This hints that they are referring to this episode as Punching Judy is the main focus.[2]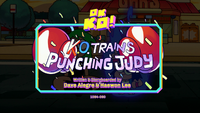 When K.O. wants to volunteer to train Punching Judy, the "title card" jokingly pops up as "K.O. Trains Punching Judy". Punching Judy actually wants someone else to train her to which when she turns to Mr. Gar, the title card "corrects" it as "Gar Trains Punching Judy".
Continuity
The flashbacks of when Mr. Gar was El-Bow for his wrestling career may have taken place before the flashbacks in "Glory Days" before he was recruited to P.O.I.N.T. at that time.
The volcano where the fight is the same volcano Enid and Rad fought from "Second First Date". Difference is that there are spectators added and the "UBC" is engraved on the mount.
Cultural References
Punching Mommy is bares a resemblance to Dexter's Mom from Dexter's Laboratory.
Videos
Gallery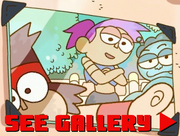 Transcript
View the episode's transcript here.
References List