"Gar Trains Punching Judy" is the 37th episode of Season 2 of OK K.O.! Let's Be Heroes and the 89th episode overall.
Official Synopsis
With a big fight coming up, Punching Judy turns to KO and Gar to help her prepare.[1]
Plot
TBA
Features
Characters
Trivia
On July 20, 2018, the OK K.O.! Krew Tumblr site received a question concerning about if Diving Belle, Dolph Finn, Rex th' Bunny, or Punching Judy will have an episode of their own. This hints that they are referring to this episode as Punching Judy is the main focus.[2]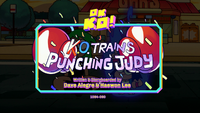 When K.O. wants to volunteer to train Punching Judy, the "title card" jokingly pops up as "K.O. Trains Punching Judy". Punching Judy actually wants someone else to train her to which when she turns to Mr. Gar, the title card "corrects" it as "Gar Trains Punching Judy".
Continuity
The flashbacks of when Mr. Gar was El-Bow for his wrestling career may have taken place before the flashbacks in "Glory Days" before he was recruited to P.O.I.N.T. at that time.
The volcano where the fight is the same volcano Enid and Rad fought from "Second First Date". Difference is that there are spectators added and the "UBC" is engraved on the mount.
Cultural References
Punching Mommy is bares a resemblance to Dexter's Mom from Dexter's Laboratory.
Videos
Gallery
Transcript
View the episode's transcript here.
References List