Jurassic World: Dominion Dominates Fandom Wikis - The Loop
Play Sound
This article is about the short. You may be looking for the character.
— Soft Canon —
This page contains content that is considered "soft canon" and has an arbitrary placement within the TV series.
"Enid" is the second short of OK K.O.! Let's Be Heroes.
Official Synopsis
KO breaks something near and dear to Enid![1]
Plot
Enid is in charge of the store while Mr. Gar is gone. She tells K.O. and Rad to clean up the expired yogurt. Rad and K.O. started punching the yogurt to try and look cool while putting it away; Enid joins in, but K.O. accidentally throws Corrosive Acid at Enid instead of expired yogurt because the containers look the same.
Enid uses the firepower move to destroy it which causes the acid to bursts out onto her counter, dissolving it. Enid gets very upset with K.O. K.O. then said "Broke Enid? By breaking her thing. People are more important than things. Sometimes, in this hero's life, people are things." Then Enid gets a "new counter" that is really Rad and K.O. laying on the ground and they leave to store at the end of the day.
Characters
Videos
Gallery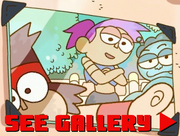 Transcript
View the episode's transcript here.
References List