Jurassic World: Dominion Dominates Fandom Wikis - The Loop
Play Sound
— Soft Canon —
This page contains content that is considered "soft canon" and has an arbitrary placement within the TV series.
"Enid's Bad Day" is the fifth short of OK K.O.! Let's Be Heroes.
Official Synopsis
Updated version
When annoying customers overrun Enid, she unleashes a soul-sucking vortex.[1]
Older version
Enid is pushed to the limit by her job.[2]
Plot
K.O. and Radicles store boxes on the shelves while Enid has to deal with the customers at the counter. Punching Judy wants her potion, Potato asks if there were any comics from the back and Neil demands a banana. While Enid gets Punching Judy her potion and Potato her comics, Neil grabs Enid's arm and impatiently demands his banana. Enid shouts with force onto Neil to the ground. Enid yells at the customers to back off.
Mr. Gar and Radicles witness while K.O. wants to stop her. However, Enid levitates and unleashes a tornado where the customers are dragged onto. At first, K.O. yells Enid to get herself together but it does not help. Enid lures K.O.'s soul and eats it. Enid maniacally laughs until an alarm blares and leaves the store for her fifteen-minute break.
K.O. exits the Bodega to checks on Enid. Enid reveals to K.O. that she was stressed out. K.O. tells Enid to ask for help next time before literally bringing the store down. Enid puts K.O.'s soul back into his body. Enid's break is finished and returns back to the Bodega.
Characters
Videos
Gallery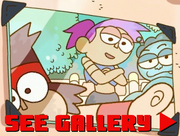 Transcript
View the episode's transcript here.
References List