Elsa Frankenteen is a character of the movie, Scooby-Doo and the Ghoul School. She appears in OK K.O.! Let's Be Heroes, making her debut in "Monster Party".
Physical Appearance
Elsa is a tall, female humanoid, with pale skin, and a black hair updo with white streaks. She has a bolt on both sides of her neck, a bit of a heavy brow, and many stitches on her body. Her outfit consists of a dark green dress torn at the ends over a light green t-shirt with chunky brown sandals.
Personality
Like all Frankensteins, her movements were a little slow, and she did tend to point out the obvious; however, she is bright (having a love for science), strong, and tenacious. She is also a bit of a tomboy (like Winnie).
Episode Appearances
Trivia
Her name is a reference to the actress who played the Bride of Frankenstein, Elsa Lanchester.
Galleries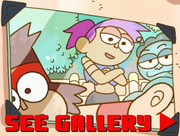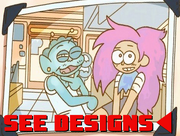 Community content is available under
CC-BY-SA
unless otherwise noted.