"

It'll take more than that for Lakewood's best designer to run out of ideas. Listen up, Rad. you already got one power that Raymond's dumb inventions could never top. Originality is the heart of fashion. And theres nothing more original than being yourself!

"
—"Project Ray Way"
Drupe is a minor character in the OK K.O.! series. She runs a fashion blog, as revealed in her initial series appearance in "You're Everybody's Sidekick".
Physical Appearance
Drupe has red skin with black seed-like spots and a green leafy stem on her head, resembling a humanoid strawberry. She wears a green sleeveless dress and black boots.
In "Plaza Prom", she wore a long dark v-neck bluish-purple dress with a slit up to her thigh, black high heels and black lipstick.
Personality
Drupe is considered one of the 'cooler' characters of the show and hangs around Red Action and Gregg, all the while complaining and echoing the insults by Red Action. She is passionate about her fashion blog and blushed when Joff and Nick Army took her advice to heart. She is seen constantly on her phone, going through a website, not unlike Tumblr.
In "Plazalympics", she becomes visibly horrified by the sight of strawberries in the gift basket she, A Real Magic Skeleton and Brandon win for taking 3rd place, running off as Brandon grabs one to eat, indicating that she is sensitive when it comes to people eating strawberries.
Abilities and Powers
Appearances
Pilot
Shorts
Season 1
Season 2
Season 3
Games
Trivia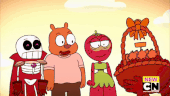 Galleries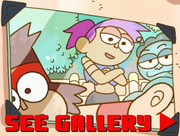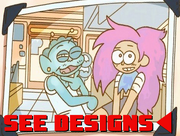 Reference Sources
Community content is available under
CC-BY-SA
unless otherwise noted.