— This article contains crossover content —
This page contains information about content that does not fall under the OK K.O.! license nor owns it and belongs into a different franchise. It is expected that content should not plagiarize from their home wiki.
Dr. Barbara "Babs" Blight is a character from the 90's television show, Captain Planet and the Planeteers. In OK K.O.! Let's Be Heroes, she makes her first appearance in the episode, "The Power Is Yours!".
Physical Appearance
Dr. Blight has fair skin and blue eyes. Her hair is blonde with a white piece covering her left eye. She wears a pink, green, and yellow jumpsuit with yellow and black gloves and matching boots. Blight wears pink eyeshadow and lipstick, and has sharp white teeth.
Personality
She is an eco-villain and wants to take over the world. She seems to enjoy anything that can cause harm to nature, and suggests Lord Boxman to produce even more pollution with his industry, causing the Plaza to get in terrible conditions.
Powers and Abilities
Blight is a high intelligent person, having created her sidekick and computer husband MAL and other machinery. At one point, and later in the comics, she had her evil version of Ma-Ti's Heart Ring, known as the Hate Ring. She would use it to combine the power it gave her to summon Captain Pollution.

Episode Appearances
Trivia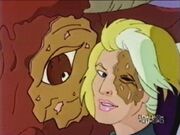 The original voice actress of Dr. Blight was Meg Ryan. In later seasons, her voice actress was Mary Kay Bergman, who died in 1999.
In "The Power is Yours", Tessa Auberjonois voices the villainess.
Dr. Blight grew her hair to cover part of her face because of a scar. In episode "The Power Is Yours!", however, both her eyes are shown when she is dumping the pollution into the machine.
External Links
Gallery