Dogmun is a minor canine-like character in OK K.O.! Let's Be Heroes.
Physical Appearance
Dogmun is a yellowish-tan humanoid dog with a light green nose that has an oval shape. He has two lazy eyes and dog ears that fall down on both sides of his head. He also has a chubby jaw and wears a blue t-shirt. He appears to be cross-eyed most of the time.
Personality
Bitten by a radioactive dog, this dog became a man dog. Nobody knows what motivates Dogmun, but he can be seen hanging around almost everywhere. Dogmun doesn't behave quite like other humanoid animals in the series (such as Potato, Chameleon Jr. or even Crinkly Wrinkly), having much more animalistic traits and not even being capable of speaking (as shown in the episode "OK Dendy! Let's Be K.O.!").
Abilities and Powers
Barking bite: A deadly and awkward combination of a bark and a bite.
He can catch a ball he throws himself.[1]
Episode Appearance s
Trivia
He shares a slight resemblance to Jake the Dog from Adventure Time.
He shows up at the villains' party in "Villains' Night Out" despite being a hero.
In "Seasons Change" it is revealed that Dogmun, prior to being in a war, used to wear a red t-shirt.
He used to get his treats from Boxmore, but started going to the plaza instead because it has "better stuff".
He is easily distracted by a thrown ball.
Gallery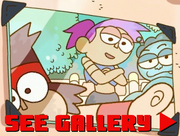 References List