"

Special abilities means nothing without the wisdom to know how and when to use them!

"
—Bittersweet Rivals
Doctor Greyman used to be a member of P.O.I.N.T. He was the teacher of the Wisdom discipline at P.O.I.N.T. Prep.
Physical Appearance
Doctor Greyman looks like a typical alien, with grey skin, and large dark eyes, along with dark purple eyelids. He has a slim build and no hair. Although his body is mostly naked, he wears a dark blue fedora hat, with a purple scarf, a long white beard, long light blue socks, and blue shoes.
He now goes around in a floating, white wheel-chair, with purple cushion. He still has his dark blue fedora, but he now has a fake white beard (as seen in "Final Exams").
Personality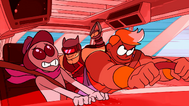 The full extent of his personality has yet to be shown, but it can be assumed that he is more cautious than the others by the way he reacted to Foxtail's reckless driving. Going by the traditional depiction of aliens, it can also be inferred that he is the brains of the team. This claim is further backed up by the fact he was the one to handle the test scores and portfolios during the induction ceremony.
He seems to be somewhat of a carefree person, acting in a friendly and casual way towards his teammates. However, he is serious about fighting crime much like the other members of P.O.I.N.T.
Abilities and Powers
Today
In "Let's Take a Moment", a flashback shows that, while young, he has lost his powers due to a mysterious weapon. In "Bittersweet Rivals" it was again stated that he has lost his powers, and in "Final Exams" Foxtail calls him "powerless", making it clear that the effect was permanent.
While Young
Doctor Greyman's exact power level is still unknown, but he was powerful enough to be one of the three top members of P.O.I.N.T.
Levitation Skills: Much like Rad, Greyman could shoot beams from his fingers that could levitate objects or even himself, though, his beams were aqua-green colored.
Episode Appearances
Trivia
He likes pizza.
His name is a pun on the phrase "grey man", which means someone who can blend into any scene or situation without standing out.

His name may also be a reference to the traditional grey aliens he's designed after.

His powers are still gone, as seen in "Bittersweet Rivals".
He now has a German accent when he talks.
Gallery
Reference Sources