"Do You Have Any More in the Back?" is the 11th episode of Season 1 of OK K.O.! Let's Be Heroes and the 11th episode overall.
Official Synopsis
Rad is put to the test when a customer needs something from the mysterious back room.[1]
Plot
Radicles shows K.O. a bunch of (false) things around the store. K.O. asks Rad how did he know about everything about the bodega, and the latter replies, "I know everything!", he tells K.O. that the bodega is named after Mr. Gar, something Enid already knows about. Rad denies Enid's point and claims that it's jealously. Fish Dude approaches Rad and tells him that they're out of Super Shaving Cream and asks if there's more in the back. This intrigues K.O. and Rad decides to go to the back of the store, with Enid and K.O. (the former wants to see Rad embarrass himself) tagging along too.
In the stockroom, Rad leads his friends to the stairs, but K.O. finds a an old lift, Rad claims that it's safe (which is not). Enid tries to tell Rad that the stairs are better, but Rad don't listen. The rope supporting the lift breaks off and Enid saves them from being crushed. The trio walks around the maze-like stockroom, but Rad keeps getting them lost and without the shaving cream. In another part, Enid finds some Gloops and asks Rad if they're touchable, and he (Rad) says yes. Upon, poking it with a stick, the gloop disintegrated the stick, which Enid angrily scolds Rad for his idiocy, but the latter mistaken it. A cloaked figure named Gary tries to intimidate the hero trio, but they measly walked past him. In another room, the room is dark and as Rad turns on a flashlight, the flashlight turns into a Mimic and it attacks the trio. Enid brightens the room with a nearby light switch to boast to Rad about and the Mimic escapes. In an Egyptian-like room, Rad mistakes it for a bathroom, he touches a sarcophagus and Ms. Mummy exits out of it. She offers the trio a map, but Rad grabs both K.O. and Enid away from the map. Enid begins to have enough of Rad's antics, and when she's try to back for the map, Ms. Mummy's room is now the Glorb Sanctuary, meaning that the rooms are randomly generating and they're hopelessly loss, much to Enid's distress, and Rad claims that Enid needs to follow his lead.
Incensed, Enid grabs Rad by his shirt and chastises him for his lazy and unethical ways of them getting lost throughout the whole thing and she's taking charge now. Rad scoffs and stays behind, Enid doesn't care and makes K.O. come with her. Else where, K.O. and Enid spots another map, but it's another mimic and it attacks the duo. They manage to defeat it, only for it to shallow them whole, but they escape. When they generate to another room, Enid breaks down that they'll never escape, K.O. reassures that Rad knows what he's doing. Enid, seeing how the young hero admires Rad so much, tells K.O. that everyone is not perfect. To add to this lesson, Enid tells her best friend that he (K.O.) should see for who he really is, not for who he wanted Rad to be. K.O. finally see how it is. Suddenly, Rad shows up to the duo and apologies for everything, he even get the map for them. Then, a second appears with obnoxious behavior, K.O. and Enid realizes one them's a mimic. The two Rads show off their behavior, and K.O. don't know which Rad is which.
Enid tells K.O. to look for who Rad really is, he glances at the nice, helpful Rad and at the macho, egotistic Rad. After recapping everything, he finds the bad Rad is the true Rad, and the good Rad reverts to its mimic form and attacks the trio. The mimic toss some dice, much to the annoyance by the trio, who defeated the mimic. Rad boasts to Enid and K.O. that he knows everything, K.O., who finally has enough of Rad, tells him if that was true, than he would've gotten him and his friends lost in the back. As the two quarrel, Enid spots the map from Rad's back pocket, meaning he helped for once. Rad denies it for something else.
The trio finally make it out of the back and into the bodega, Fish Dude, who grows a long beard, asks for the Super Shaving Cream. They realize they forgot it, but K.O. manage to get some. Unfortunately, the can reveals to be a mimic as it presumably attacks the heroes.
Features
Characters
Music
Soundtrack
Trivia
The title of the episode derives from an old premise of Ian's original pitch bible of the pilot, however, the stories are not connected to the episode's premise.[2]
Continuity
The episode is meant to be a deeper and more deconstructive look at Rad's character compared to his external personality shown from "Jethro's All Yours".
As K.O. goes in the back stock room for the first time, Gary became unfamiliar with him and was acquainted with Enid and Rad before.
The glorbs make a cameo official appearance as it was mentioned and displayed in hologram form by Dendy from "I Am Dendy".
The Glorb Sanctuary room has been foreshadowed leading to their purpose in "Let's Have a Stakeout".
Videos
Gallery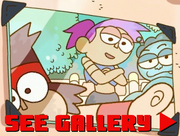 Transcript
View the episode's transcript here.
References List