"Dendy's Power" is the 15th episode of Season 2 of OK K.O.! Let's Be Heroes and the 67th episode overall.
Official Synopsis
Dendy and K.O. discover a fun and exciting new POW Card exploit.[1]
Plot
TBA
Features
Characters
Music
Soundtrack
Trivia
When Dendy modifies K.O.'s nose at the beginning of the episode the first nose pays homage to the original designs of the Pilot.
Production Notes
When the crew made this episode, they met with coding experts and kid coders, and learned from them while doing a research.[2]
Continuity
K.O., Enid, Rad, and Dendy leveled up in this episode.
Shannon wears her wig from "Plaza Film Festival" but it is messier this time.
Cultural References
The code blocks Dendy uses at the beginning of the episode could be a reference to Scratch, a "drag and drop" programming language aimed at children.

Dendy also references it when she says, "I learned coding from scratch."

In the flashback where Dendy tells K.O. about how she learned how to code, she holds a book with the title Sapphire On Rails, a clear reference to the programming language Ruby on Rails.

This could also be a reference to Ruby and Sapphire from Steven Universe, another show that Ian has worked on.

During the fight on Pow Card server, Shannon's form resembles the CY-Bug form that King Candy/Turbo took during the finale of Wreck-It Ralph.
The final battle is a references a couple of different role-playing games.

There's a static swirl and fade before the battle, a staple of many later Final Fantasy games.
The isometric view, "spell animations," and especially Shannon's defeat seem largely inspired by Super Mario RPG.

The image on K.O.'s Pow Card before the mod has a Hunny Pot which is a reference to Disney's Winnie the Pooh.
The title card has the appearance of a "crack intro", particularly those seen on Amiga computers. The chiptunes heard throughout the episode also use instrumentation that originated on the Amiga.
Errors
When Dendy is about to unplug K.O.'s nose, her glasses are miscolored as orange.
Videos
Gallery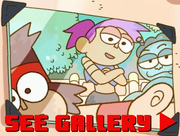 Transcript
View the episode's transcript here.
References List
↑

hhttps://tv.apple.com/us/episode/dendys-power/umc.cmc.qqer2aqcb3w9xg2aq6ph6r2y?showId=umc.cmc.471vo2xvxzhl67cwqxo9ju367