— Soft Canon —
This page contains content that is considered "soft canon" and has an arbitrary placement within the TV series.
"Commercial" is the ninth short of OK K.O.! Let's Be Heroes.
Official Synopsis
K.O., Rad and Enid make a commercial for Lakewood Plaza showing off all the cool stores.[1]
Plot
K.O. plays the spy game with Enid and Rad and ended shortly when Rad knows he was the answer. The Bodegamen watch themselves from a commercial for Lakewood Plaza Turbo.
In the commercial, Rad carries a crate of dynamite, Enid has a bag of Meat on a Bone, and K.O. holds Super Milk. Rad and Enid did the intro and Mr. Gar cuts K.O.'s shot to introduce the commercial, leaving K.O. sad. Mr. Gar introduces Carol's Fitness Dojo to inform viewers to get workout lessons from Carol. K.O. says "hi" to Carol despite acknowledging it was a commercial. Next location featured is Burrito Beardo's. Mr. Gar interviews Colewort eating a plate of broccoli. Colewort freaks out and wants the interview cut. Mr. Gar tells the viewers to check out the iFrame Outlet and lastly, his Bodega. Mr. Gar advises that the staff will help them out. The commercial ends with the location information of Lakewood Plaza Turbo.
The Bodegamen see the blooper reel of the commercial. Enid and K.O. laugh when Rad messes up his line. In the second retake, Rad messes up his line again and Enid and K.O. laugh. Frustrated, Rad drops the crate of dynamite and becomes a skeleton. It is revealed that Rad turned into a skeleton after they watched the blooper reel. Rad disintegrates and the wind takes up his dust.
Characters
Trivia
Videos
Gallery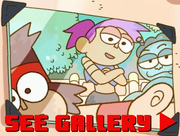 Transcript
View the episode's transcript here.
References List