Combo Breaker is a character that made a cameo in the episode, "You're Level 100!" and the first speaking role in "Sidekick Scouts".
Physical Appearance
Combo Breaker has tan skin, pointed black hair, and slightly yellowed eyes.
Originally, Combo Breaker wore red shorts, grey leggings, and black shoes. However, in the episode "Sidekick Scouts", his appearance was given a slight update and he now wears orange shorts and long, blue boots.
Personality
Combo Breaker has an overly excited and bubbly personality. He was enthusiastic about trying to help K.O. in "Sidekick Scouts."
His eccentric and hyperactive personality makes it easy to get on people's nerves, which he's completely oblivious to. Despite being that annoying to others, Neil still puts up with him and treats him in an almost fatherly way.
Abilities and Powers
Combo Breaker has retractable cannons in his buttocks that can fire laser. He also has multiple robotic arms all over his body which he can retract. His body is able to store various objects. His neck is extendable. His body is strong enough to break concrete walls and ceramic tiles. He is able to fly with his jet-powered boots.
Episode Appearances
Trivia
Combo Breaker is the only person who gets on K.O.'s nerves.
He has a resemblance to Astro Boy who was created by Osamu Tezuka. His voice actress, Candi Milo, has also voiced Astro Boy.
Combo Breaker was originally supposed to be K.O.'s rival, as seen in Dynamite's Action News.
Joe Cuppa and Combo Breaker is one of the other characters to battle with the Boxmore robots aside of the main characters.
Combo Breaker lives in the same neighborhood as K.O.[1]
As shown in "Thank You for Watching the Show", Combo actually ends up getting into P.O.I.N.T Prep.
Gallery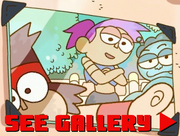 References List