This article is about the son. You may be looking for the father.
Chameleon Jr. is a minor character in OK K.O.! Let's Be Heroes. He made his debut in "My Dad Can Beat Up Your Dad".
Physical Appearance
Chameleon Jr. is short with scaly green skin. He has large yellow eyes, a pointed nose, and a mouth full of sharp teeth. He has tattoos on both of his shoulders to compensate for his small size.
His outfit consists of a pale blue sleeveless top with purple stripes, and blue jeans with no footwear.
Personality
Chameleon Jr. was very stuck up and spoiled, having no patience for things that don't go his way. This is due to the fact that his father gives him everything he wants.
Abilities and Powers
Sticky Tongue: His tongue is incredibly sticky and can shoot out to about 50ft in length. It is also in the shape of a hand like his father's.
Color Change: Like all chameleons, he can change color. An example of this is when his tongue hits him and his body becomes pink.
Episode Appearances
Trivia
Chameleon Jr.'s sticky tongue references "sticky hands", a toy that consists of an incredibly sticky rubber hand attached to a stretchy, rubber string. When swung, it can be slapped onto almost any surface and it will stick.
Chameleon Jr. is a parody of Bowser Jr. as both are small reptile characters who share their father's names.

Additionally, the way he and his friends pose when introduced seem similar to the Koopalings' pose.
He can also be seen as a parody of Minya/Godzilla Jr. as both the sons of powerful Kaiju like monsters and both have overprotective fathers.

In "We've Got Fleas" we can see Chameleon Jr. is a member of the unnamed Human-based subculture, as he wears a green Human mask. Since this is set after events of "My Dad Can Beat Up Your Dad", he might want to be human in order to make his father proud.
In the montage of future adventures near the end of "Thank You for Watching the Show", Chameleon Jr. outgrows his spoiled brat ways and is the head of a(n) (implied to be religious) youth group.
Gallery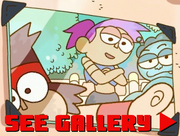 References List