Click here to see more of Brandon's quotes
Brandon is a minor character shown all throughout the series. He is simply a bear who works at IFrame Outlet in the plaza alongside A Real Magic Skeleton. His first appearance in the OK K.O.! franchise was in the 2013 pilot, "Lakewood Plaza Turbo".
Physical Appearance
Brandon is an anthropomorphic bear with light brown fur, a lavender-gray nose, and appears somewhat chubby. He mostly wears a short-sleeved, light pink t-shirt with dark gray shorts, and gray with red-striped white socks.
As initially shown in "Jethro's All Yours", the lettering on his shirt would change depending on his mood, such as "Hungry" when he's hungry. His shirt name changing is most seen in "Know Your Mom", in which his shirt goes to things like "Planning time" while convincing K.O. and "Mmm" while he's eating macaroni.
Personality
Brandon will often act on his own desires and impulses without regard for the people around him and how they might feel. He will even go so far as to manipulate others to get what he wants, such as in "Know Your Mom". In that episode, he convinced K.O. to hand over his macaroni art by making him think it would be a terrible mother's day present so Brandon could eat it. Though he doesn't believe in "karma", at the end of the episode, he suffered with terrible stomach pains and was stuck in the bathroom as a result.
Despite this, he seems to care a lot about his best friend A Real Magic Skeleton. He has been shown to enjoy goofing off with ARMS, and gets upset when he expresses interest in working somewhere else in "RMS & Brandon's First Episode". He also shows a lot of affection for his best friend, making him laugh, nicknaming him "Magi", and even giving him a corsage at the plaza prom.
Episode Appearances
Trivia
Brandon enjoys drumming.
He's good at attacking bad guys, but has to do it on a consistent drum beat.[2]
He always has something related to what's going on, on his shirt. For example, he had Season 2 on his shirt in "Seasons Change".
Brandon is really good at the drums. Could be in a band if he applied himself.[3]
Brandon can actually fight, but he is lazy.[4]
Gallery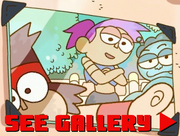 References List