Boxman Jr. was the latest child creation of Lord Boxman, who was first seen in the episode "Action News".
Physical Appearance
Boxman Jr. has a similar appearance to Boxman. He has green skin, golden bolt-shaped ears, a big red nose, dark blue hair, and small black eyes. He wears a pale blue lab coat with a red bow tie, a diaper with a big pin, and light blue socks.
Personality
Boxman Jr. is a very quiet and calm baby, but when using Professor Venomous' Bio-chip, he starts acting aggressive and more lively. He appears to enjoy attacking heroes, laughing and mocking while fighting them. He's skilled in using his seemingly endless set of baby-themed weapons. Boxman Jr. gets angry when attacked, also crying when he got hurt. While being destructive, he also acts like a typical baby, he only speaks baby-like gibberish, and goes back to drinking his baby bottle in the middle of his fight against K.O..
Abilities and Powers
He has a large set of built-in weapons and machinery, that can be activated by the bio-chip Professor Venomous handed to Lord Boxman. Many of his attacks are baby-themed. He is incredibly powerful, being able to easily defeat both Carol and Mr. Gar and fight T.K.O. to a standstill.
Episode Appearances
Trivia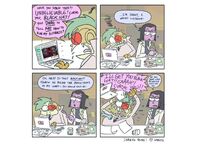 Ian Jones-Quartey posted a comic on Twitter, in which a paper over Boxman's desk may have hinted to Boxman Jr.'s existence. A sketch that resembles the robot's head shape, and the initials "BMJ" can be seen.
Boxman Jr. may be inspired by Bowser Jr. from the Mario franchise.[1]
According to Ian Jones-Quartey, Boxman Jr. was "the most terrible baby of all time and then he died."
Boxman Jr. is a joint project between Lord Boxman and Professor Venomous. Boxman created his robotic body and Venomous supplied his bio computer chip.
Boxman Jr. was the son of Lord Boxman, for the robot body, and Professor Venomous, for the bio computer chip. He was the most terrible baby of all time.[2]
The sounds he makes is similar to Stitch from the movie, "Lilo & Stitch".
Boxman Jr.'s design was a collaborative effort by Dave Alegre, Haewon Lee, Danny Ducker and Stevie Borbolla, with final art by Julia Srednicki. [3]
Galleries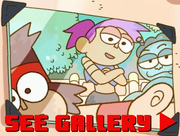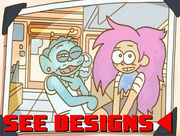 References List