Jurassic World: Dominion Dominates Fandom Wikis - The Loop
Play Sound
"

All I want is to be back in my old office, making evil robots and crushing heroes.

"
—Lord Boxman
"Boxman Crashes" is the 23rd episode of Season 2 of OK K.O.! Let's Be Heroes and the 75th episode overall.
Official Synopsis
Lord Boxman crashes at Venomous' lair and inserts himself into his villainous affairs.[1]
Plot
On a rainy day, the customers run into the Bodega to purchase umbrellas while K.O. mops the floor. K.O. overhears thunderstorms at DarrellMore and wonders what is Lord Boxman up to, denying that he died. Meanwhile, Professor Venomous demands Congress Woman for one billion technos from the government. Professor Venomous threatens that he has a Doomsday device hooked up to target Congress Woman if she doesn't give in to his demands. Congress Woman transfers the technos to him. Fink plays video games and asks Professor Venomous if he can play with her, to which he denies.
Fink suggests if they could burn down Billiam Milliam's yacht but Professor Venomous decides to take a drive to clear his head. Professor Venomous recommends Fink to play the piano instead of video games, but she secretly plays the video games. Professor Venomous hears the garbage can rattling and sees Lord Boxman sleeping in there. Lord Boxman asks Professor Venomous to stay in his house for few days since he does not have anywhere else to go since his falling out from Boxmore. Professor Venomous doubtfully allows him stay. Fink is irritated with Professor Venomous' decision.
The next morning, Professor Venomous prepares his lab work and drops a sample when Lord Boxman creates a mess in the house from his belongings. Professor Venomous scolds Lord Boxman to clean up the mess and to remove one of his shirts Lord Boxman is wearing. Professor Venomous gets into a video meeting with the Board of Investors about what to invest and the plan. Professor Venomous ends the meeting prematurely to find Lord Boxman singing as he makes his famous "blunch". Professor Venomous had it with his mess and for ruining his laboratory.
Professor Venomous happily trims his mutant bonsai plant due to the tranquil environment of the laboratory. Lord Boxman showers and slips from a puddle of water crashing through Professor Venomous' house. Lord Boxman accidentally triggers the Doomsday device and explodes the house. Professor Venomous and Fink are angry at Lord Boxman for goofing off during his stay. Lord Boxman shows Professor Venomous and Fink the Rat Trike for Fink to ride and terrorize the plaza with. Then, Professor Venomous becomes impressed with his commitment of "petty villainy." Fink, Professor Venomous, and Lord Boxman rides on the Rat Trike to the plaza.
The customers drop the umbrellas at the Bodega for K.O. to clean up and purchase sunglasses. K.O. sees that Fink, Professor Venomous, and Lord Boxman arriving at the plaza. Fink allows Lord Boxman and Professor Venomous to watch from the sidelines as she rides over K.O. Rad catches K.O. K.O. suggests to remove the small wheel to destabilize the tricycle. The Bodegamen tosses the umbrellas to detach the small wheel from the tricycle. Fink crashes into Lord Boxman and Professor Venomous and gets launched to Boxmore.
Fink wants Lord Boxman to make her another Rat Trike after being impressed with it. Professor Venomous tells Lord Boxman that he prefers Lord Boxman's villainy path over his. As Professor Venomous is reminded about the techos transfer, he rectifies the favor to him by buying Boxmore back from the Board of Investors. Lord Cowboy Darrell retires as CEO and gives the position back to Lord Boxman. Professor Venomous and Lord Boxman becomes business partners.
Features
Characters
Music
Songs
Soundtrack
Trivia
The previous time Lord Boxman was seen was the first day of fall.
Continuity
Videos
Gallery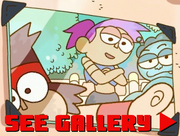 Transcript
View the episode's transcript here.
References List