Blue Power is a minor character in OK K.O.! Let's Be Heroes, from the future. She's the leader of the Hue Troop.[2]
Physical Appearance
Blue Power is a tall, muscular character. She has short cyan hair, sharp eyes, and a long nose.
Much like the rest of the Hue Troop, Blue Power wears an armor that leaves her midriff exposed, dark grey shorts, cannon arms, a belt, and high heels.
In her case, her armor is teal colored and the symbol in her belt buckle is a heart.
Personality
Blue Power tends to be a very tough-willed and demanding leader towards the hue troop. Despite this, she is a very bold leader and cares a lot for her friends. She also seems to show a polite attitude when she greeted Enid in Red Action to the Future.
Abilities and Powers
Laser Blast: Both her arms can transform into cannons that shoot lasers.
Powerful Strength: She can crush boulders with her bare hands if she happens to be fighting boulders.
Vehicle
She drives the Squidhog. Its design suggests that it is a Light Assault Vehicle (LAV).
Observed Weaponry
Episode Appearances
Trivia
Blue Power isn't actually her real name, the name was given to her as a member of the Hue Troop. Her real name is currently unknown as she is isn't allowed to reveal it until the day she retires, which is when the Prysma Crystal is passed down to the new generation.
Character concept and design by Mira Ongchua.
Squidhog designed by Parker Simmons.
Character and vehicle production model sheets by Julia Srednicki.
Blue Power excelled at sports, school and was student body president of the local Cyborg High School while she was still only in kindergarten.[3]
Blue Power is confirmed to be a lesbian.[4]
Gallery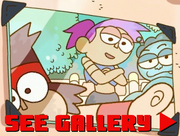 References List