"

Good evening, my villains and villanesses. You're in for the most outragest, siniful treat of a time tonight.

"
—"Villains' Night Out"
Billiam Milliam is a minor character in OK K.O.! Let's Be Heroes. He's a villain who was first seen in the episode, "Stop Attacking the Plaza". He believes funding many villains is the best way to be a villain.
Physical Appearance
In "Stop Attacking the Plaza" and "Let's Watch the Pilot", he has orange hair, yellow and white striped skin, wears a gray blazer jacket with a magenta ascot and buttons, black slacks and shoes. His redesign in "Villains Night Out" has him in a different hairstyle, and his hair color and skin became a metallic gold. The gray blazer is now a medium gray with black buttons.
Personality
He is arrogant, egotistical, narcissistic, sophisticated, haughty, and snobbish, and seems to be quite wealthy. Despite being one of Lord Boxman's investors, he doesn't seem to take him seriously, ridiculing him and deliberately not inviting him to his exclusive party. He's always surrounded by his minions and bodyguards.
Abilities and Powers
Billiam Milliam never fights directly, instead, he uses his Silver Minions to brawl for him (as shown in "Let's Fight to the End"). In OK K.O.! Let's Play Heroes, Billiam doesn't do anything to help K.O., but if the player punches him, he will spit Technos from his mouth.

Episode Appearances
Trivia
In the game OK K.O.! Let's Play Heroes, he is level -7, and attacks by spitting golden coins.
It is possible he is physically based on the villain Destro of the G.I. Joe franchise, due to the latter's famous metal mask.
As shown in the finale, "Thank You for Watching the Show", Billiam Milliam buys the Moon and lives there with his minions, only to be eaten by Cosma and supposedly killed.
Billiam owns more of the world than anyone else.
Gallery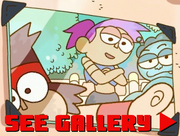 References List