"Be a Team" is the 6th episode of Season 2 of OK K.O.! Let's Be Heroes and the 58th episode overall.
Official Synopsis
Mr. Gar brings in some team building experts to help K.O., Enid and Rad.[1]
Plot
After 100 days of sales, K.O., Rad, and Enid can't stand one another. Mr. Gar calls in the experts, Nick Army and Joff the Shaolin Monk, to come in and teach the employees about teamwork and yin and yang. However, the employees' training gets shaky when Nick and Joff also begin to tire of each other's teaching methods.
Features
Characters
Music
Soundtrack
Trivia
Videos
Gallery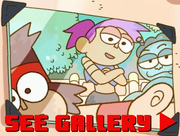 Transcript
View the episode's transcript here.
References List