— Soft Canon —
This page contains content that is considered "soft canon" and has an arbitrary placement within the TV series.
"Barrels and Crates" is the sixth short of OK K.O.! Let's Be Heroes.
Official Synopsis
K.O. uses his fighting skills to open every barrel and crate in the warehouse.[1]
Plot
Mr. Gar informs K.O. about a new shipment and wants him to open all crates and barrels and to follow the procedure. K.O. reads the procedure from getting a crowbar and then open the containers. Rad tells K.O. that the order does not matter when K.O. does not have a crowbar.
K.O. punches a nearby crate and finds money. K.O. smashes the crates and barrels leaving behind random items. K.O. finds a turkey dinner in one and trimmings in another. K.O. finds an item that resembles his head and drops it when it talks to him. Rad tells K.O. not to overthink. K.O. stacks the crates and slams down. K.O. finds a crowbarred. K.O. smashes a crate and quickly becomes a barrel. K.O. notices the pattern of barrels and crates after he repeatedly smashes it. K.O. uses his power fist to smash the crate and found the crowbar. K.O. sees that he smashes all crates and barrels without using a crowbar.
Mr. Gar, in flames, goes into the warehouse and sees the mess. He angrily tells K.O. that he should have followed the procedure. K.O. tells him that the order did not matter. Mr. Gar then angrily asks who told him about it and then, Rad flees.
Characters
Trivia
Mr. Gar is seen in a jetpack and helmet, which doesn't make an appearance in the show.
Videos
Gallery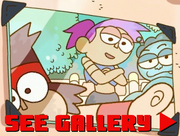 Transcript
View the episode's transcript here.
References List