"

Our minions can't seem to cooperate, no matter what team-building activity we throw at them. Maybe this co-villainy thing was a little hasty. What if we're just not ready to manage?

"
—Lord Boxman
"All in the Villainy" is the 26th episode of Season 2 of OK K.O.! Let's Be Heroes and the 78th episode overall.
Official Synopsis
K.O., Rad and Enid are confused to find the villains are more interested in battling each other than them.[1]
Plot
Ernesto examines the animosity between Darrell and Fink. They both escalate to fight which makes K.O., Rad, Enid, and the rest of the Boxmore bots confused as to who's fighting who. K.O., Rad, and Enid abandons the fight since Darrell and Fink are preoccupied with theirs. This leads to Lord Boxman and Professor Venomous intervening in their fight. In previous events, Darrell and Fink fight while Professor Venomous orders take out from the Weiner Kabob, and they both fight over a teddy bear while everyone went shopping. Lord Boxman orders Raymond to step out of the car to practice, which he denies. Lord Boxman and Professor Venomous applauds Raymond's, Shannon's, Darrell's, and Fink's performance on stage, to which Fink kicks Darrell off the spotlight.
Professor Venomous orders everyone to attend the conference room to discuss about the difficult transition and to strategize a better minion team-building plan. Lord Boxman and Professor Venomous orders Fink and Darrell to share a room, to which both are dismayed by the decision. Raymond and Shannon help unload Fink's boxes and Shannon attempts to cheer up Darrell by giving him his Sheriff Cowboy Darrell Dad hat. Finks insults Darrell's love of cowboys as she finds them lame. Then, Darrell denigrates about "Lord of the Loot" due to him not going through five minutes without sleeping. Fink feels offended by Darrell's comments, to which she shows off her weapons to Raymond and Shannon from her lunchbox. Fink allows Raymond to check out her plasma mace however, Darrell wanted to check out. Fink blasts Darrell with her laser ray gun since he was not allowed to check out her weapons. Darrell, angered, draws a line that divides the room from his side and Fink's side. Fink and Darrell bickers over the line when Fink steps over to Darrell's side. Shannon scolds K.O. to not get involved after he called her. Shannon records Fink's and Darrell's fight. Darrell accidentally bumps Fink's shelf, causing Sylvia, her second-favorite toy, smashed into the ground.
Having enough with Darrell's rules, Fink blasts a laser through Darrell's cowboy hat. Fink goes back to playing her video game on her first-favorite toy, her computer. Darrell feels dejected that he decides to shoots Fink's computer as retaliation. Lord Boxman and Professor Venomous have second thoughts about their decision after hearing Fink and Darrell fighting upstairs. They both collapse onto the table. Initially, Professor Venomous and Lord Boxman decided to punish the two of them. However, Professor Venomous decides to give them presents, but to not be used at each other and only for attacking the plaza. K.O., Rad, and Enid watches the clouds until they see Darrell and Fink coming to the plaza.
Rad and Enid are disgusted by Darrell's tentacles and covers K.O.'s eyes. He seems them. Fink bites Darrell's tentacle to tell him that Fink will battle K.O. While Fink and Darrell are distracted by bickering at each other, Enid and Rad attacks Darrell. Fink is forced to make a decision to whether attack K.O. or save Darrell from Enid and Rad. Fink launches bombs towards Enid and Rad and saves Darrell. Fink tries to hide this fact. Darrell comments that no one saved him until Fink did and compliments that she's cool. Both of them make amends and call a truce from their earlier actions. Fink and Darrell work together to battle the Bodegamen, but lost. Lord Boxman and Professor Venomous initially believes that the merging was rapid until they are surprised to see Fink and Darrell getting along with each other. Fink and Darrell recreates the possessions they broke as Darrell wears the cowboy hat Fink created and Fink plays the computer Darrell created. Lord Boxman and Professor Venomous are filled with joy to see the outcome of their expectations. In the end, Lord Boxman places his hand on top of Professor Venomous' hand.
Features
Characters
Music
Soundtrack
Trivia
A preview of the episode was uploaded on February 18, 2019 on the CN YouTube channel.
This episode features a secondary labeling tactic for the Boxmore launch boxes, when Darrell and Fink are about to get launched, the box read as "VM" rather than "BM". Ian Jones-Quartey has stated from Twitter, that "BM boxes are when it's a Boxman-ONLY mechanical robot attack. The boxes say 'VM' if Venomous collaborated on the attack. (If Fink is included, or the robots have new organic parts like Jethro's lips or Darrell's tentacles)".
There is an easter egg when Darrell and Fink are fighting over the line, an image flashes of Darrell in his cowboy outfit riding a stick horse.
Production Notes
The scene transition where Lord Boxman and Professor Venomous tells Darrell and Fink to attack the plaza was different in the original take due to Ian Jones-Quartey finding it uninteresting. Jeremy Polgar, the storyboard supervisor, altered the scene transition and animated it to make it amusing.[2]
Continuity
Cultural References
The Voxy Bunch is a spoof of The Brady Bunch.
The episode title and title card design are a reference to All in the Family.
Fink's "The Lord of the Loot" lunchbox may be a reference to The Lord of the Rings.
Videos
Gallery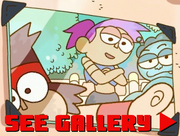 Transcript
View the episode's transcript here.
References List