This article is about the episode. You may be looking for the short.
"Action News" is the 50th episode of Season 1 of OK K.O.! Let's Be Heroes and the 50th episode overall.
Official Synopsis
Dynamite Watkins has to go extreme lengths breaking a new story. [1]
Plot
TBA
Features
Characters
Music
Soundtrack
Trivia
Crinkly Wrinkly's bathroom with a bathtub, iron gate, and picture of the Eiffel Tower in the background looks similar to the scenes in which Saturday Night Live actor Kenan Thompson used to play the character Pierre Escargot on the Nickelodeon 1990s sketch comedy series All That.

In addition, Crinkly takes a bubble bath with a scrubbing brush much like Pierre did.[2]

The plot borrows some elements from Space Channel 5 as Watkins similar to Ulala is obsessed with finding the truth. The antagonist standing in her way is revealed to be her boss, while the grand finale involves all of her fans coming together to cheer her on.
The animation from the "Action News" short is reused.
Continuity
Videos
Gallery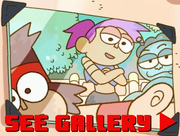 Transcript
View the episode's transcript here.
References List